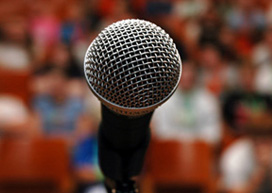 Leadership development 1,000 at a time
Mar 12th
The old adage goes: leadership development is a tough, laborious and lengthy process, and usually happens one person at a time. When tackling it, the industry norm is to plump straight for 1:1 coaching or small group leadership courses, which are more often than not costly ventures. But are they really impactful enough, how about challenging the norm and trying something different?
What do you do if you only have one hour to work with a leadership issue, and an audience of 1,000 people? You book a big theatre in the West End, work with actors to bring the leadership issue to life, and you facilitate a short and crisp session for impact.
One of our clients did just that, and the topic of the hour was leadership on safety issues, the goal of the session to make them "think again" about their leadership behaviours and the impact it has on their safety culture.
A critical success factor for a session of this size is to manage the energy in the room. It's a bit like photography, often you have the opportunity to take several shots of a scene, but when you only have one chance, you have to get it right first time. It's the same when on stage instructing 1,000 people to discuss their observations in pairs, there is no room for error.  They only have a few minutes and can't waste precious time on understanding what the task is.
It's important to strike a balance between encouraging your audience and increasing their level of discomfort to get your message across – not an easy task with such a large audience. So pick a target of 3-5 audience members and focus on them as your representatives of the wider audience. Don't be afraid to ask challenging rhetorical questions, backed up with the right tone, pace and body language to drive the message home.
The success of the event was evidence that you should think again if someone says you can't run an effective session with 1,000 people. So why not run your next business critical session on the big stage?
This article is filed under: communication, engagement, leadership