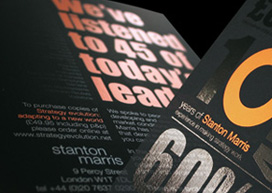 So what is strategy evolution anyway?
Apr 07th
'Strategy evolution: adapting to a new world' brings together the shared intelligence of 45 of today's leaders on how to make your strategy work in the new business environment –  the culmination of our research, and precious time kindly given up some very busy leaders to share their experiences of the new risks to successful strategy execution.
During these frank conversations we were perhaps surprised to find little evidence of the desire to reduce their exposure to risk. Instead, we found a growing awareness of the need to be open to all the new opportunities present in the changing markets they serve. And if that means identifying and managing the organisational risks that inevitably go with them, they'll do that better if they stick close to the heart of the business and the passions of the people who make it work. As a result we saw some organisations starting to reconsider the way they develop strategy and others focusing on adapting their leadership – all with the intent of emerging fitter and stronger from the current recession.
We hope this is just the start of a lively debate, and welcome any comments on the research or your experiences of making strategy work in your organisation.
This article is filed under: leadership, organisational identity, organisational risk, strategy process