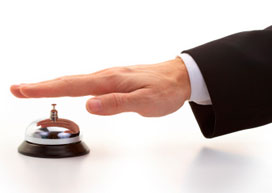 The real value of customer service
Aug 08th
We've all heard and experienced a lot of claptrap about customer service. Which company doesn't put their customer first? Or rather which company really does? Of course there is good theory (e.g. 'the Customer value chain' showing that higher customer service leads to higher profits₁)
I've been working recently with two companies which really do go that extra mile and see customer service as major competitive advantage. They're both in very different markets – one high end luxury consumer brand, the other a commodity supplier, essentially business-to-business. Both are in 'challenger' market positions, with some much bigger and more powerful brands ahead of them.
For the luxury brand, personal service is at the heart of their brand promise. For them the trick is not just about teaching their staff customer service by rote. It is about enabling their staff to gain a deep understanding of individual customers and to respond to those in a personal, authentic and empathetic way. The latter requires so much more than the plastic smiling 'have a good day' style of customer service.
For the commodity supplier, customer service is about creating relationships in the round with their customers (who in turn sell to consumers). So having market research about consumers is valuable if it helps the customer; investing in marketing direct to consumers is valuable if it helps the customer; ditto the basics of supplying the goods in full, on time and to quality which may mean sophisticated modelling and building in of flexibility in the supply chain around customer demands.
For both these companies, their route to customer service is something rather more than a one off brand slogan. It requires a whole company culture of service, responding to customer (and internally to colleague) needs. It requires being on the front foot, anticipating customer needs, always looking ahead. And it requires leadership that walks that talk every moment.
1 Harvard Business Review 2008, 'Putting the Service-Profit chain to work' by James L. Heskett, Thomas O. Jones, Gary W. Loveman, W. Earl Sasser, Jr., and Leonard A. Schlesinger
This article is filed under: employee motivation, engagement, organisational culture